My name is Nóra Erdei.
I am a qualified tour guide and a tourism professional in Debrecen, Hungary
I offer traditional as well as thematic and alternative tours of Debrecen and Hortobágy with Go local! attitude. All my tours are fully customized to your interests and requests and flexible on the day to take account of any special events taking place or the weather.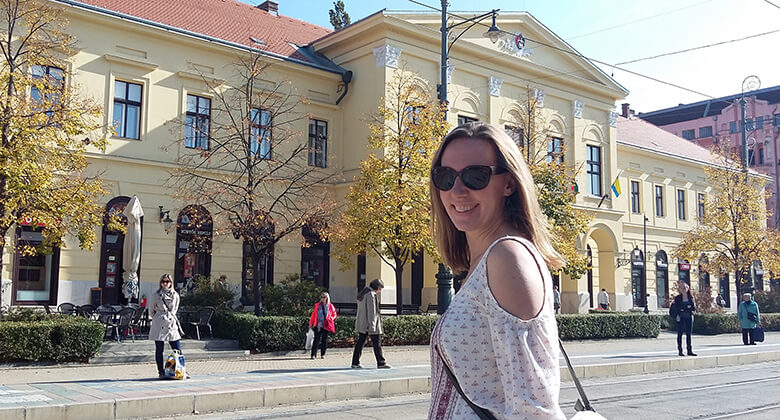 Authentic, informative and entertaining tours with Go local! attitude to fully experience Debrecen.
Tailor-made travel assistance and tips, sightseeing tours and programs in Debrecen and Hortobágy

Trip to Hungary's oldest and biggest national park, the UNESCO World Heritage site Hortobágy that is also known as the Hungarian Puszta

Tailor-made travel services and city tours customized to your interests and requests to fully experience Debrecen and its region
We spent an amazing afternoon in Hortobágy with our guide, Nóra Erdei. She showed us around in the Hortobágy National Park. Nóri was very well-prepared, she told us a lot of interesting facts about the national park and the area. Besides being nice, she has good guiding skills as well. Nóri always paid attention to the group and to their needs. Thus, the group was very satisfied with her job, I could only recommend her to other groups too.
I had the chance to meet Nora on a press trip and she showed me around Debrecen. She's a great promoter of the city and certainly an excellent tour guide
Debrecen is one of my favorite cities in Europe - their mineral baths, especially, are the tops. But the city offers so much more, and I never would have discovered half of it without the help of Nóra Erdei. She's passionate about her home town and there's no one better equipped to show you around.
You are a very good guide! A real professional who understood exactly what these two visitors were interested in. You didn't overload us with facts and figures. It was a pleasure to have so many interesting talks with you about life nowadays in Hungary.